Service: serv-ice n. 1. work done to assist or benefit another
2. thoughtful and continuous regard for the current and future well-being of a customer: marked by diligence, empathy, candor, constancy and sincere concern.
We hope that throughout the course of our relationship, you've been able to depend on us for excellent advice and service. Your support is what inspires us to seek a higher level of performance and we intend to keep striving to redefine excellence within the electrical industry.
Most importantly, we base our service on the human values of sincerity, integrity, respect and trust. These are the basic ingredients we need in order to build a long-term relationship.
We want you to know that we're here when you need us…and, that you can depend on us to assist with your electrical needs. The heart of our organization is about catering to your needs and creating the best scenarios for you.
It's All Your Fault
by Michael Airhart, June 1, 2022
Ok, that may seem like a strong statement. But when it comes to your home's electrical system, the arcs and faults are actually really important. In fact, one of the most important safety features in your home is a ground fault circuit interrupter (GFCI for short). So what exactly is it – and, more importantly, why should you care?
What Is A GFCI And What Does It Do?
GFCI outlets are devices designed to reduce the chances of electrical shock, especially where water may be present. As soon as the GFCI detects a current imbalance, it shuts off to reduce the chances of dangerous injuries. (A current imbalance is just a fancy way of saying power is going somewhere it shouldn't – hopefully not through you!) Most often you'll see these outlets in your kitchen, bathroom, and laundry room.
Testing Your GFCI Outlets
GFCI outlets can save your life – but only if they're working properly. To make sure that none one in your family has a "shocking" experience (sorry, couldn't resist!), the GFCI outlets in your home should be tested monthly. Here's how to make sure your family is protected:
Press the "reset button" to prepare the outlet for testing.
Plug something into the outlet, such as a lamp. Make sure the lamp is on.
Push the "test" button. The lamp should turn off.
Press the "reset" button again. The lamp should turn back on.
If the lamp doesn't turn off and on when it should, your GFCI outlet is either damaged or was incorrectly installed. That can present serious dangers to your family's safety and should be repaired as soon as possible. Once someone has experienced a serious shock – or worse – it may be too late. So if your GFCI outlets ever fail this test, give us a call. We'll be happy to check your electrical system and make sure the power in your home stays in the wires and circuits where it belongs.
"Quality in a service is not what you put into it.
It's what the client gets out of it." – Peter Drucker
WHEN THE WEATHER TURNS DARK
Stormy conditions can leave you
without electrical power for hours,
and in some cases, days. Yet, you
can stay well-lit and comfortable
in your home – plus keep your
food fresh in the fridge – thanks
to a standby electrical generator.
You'll have the convenience of
electricity for your appliances and
entertainment when the electrical
power goes out.
Call AirhartElectric, Inc, at 401-397-3415
for an estimate on a standby
generator that's the right size
for your home. You can choose
from a variety of styles and fuel
sources – whether propane,
gasoline, natural gas or diesel fuel.
Most importantly, professional
installation will help ensure worry free operation.
Let's be real, the World has thrown us a curve ball and we're now all together while very much apart in this shared pandemic.
Airhart Electric, Inc. is a company like every business and value our customers.
I would like to give a heartfelt thanks to our customers who have continued to contact us and schedule work and to reach out to those who need work done.
We are here, we are open and ready to service your electrical needs! Contact us at 401-397-3415 or 401-885-1212
Get $25 OFF the Best Service we can Offer. For your next electrical repair, we'd like to make things easier on your wallet, call us at 401-397-3415 , simply mention this website special ad and we'll give you the give you our best service plus $25 off! Also check out our Spring 2019 Senior Special!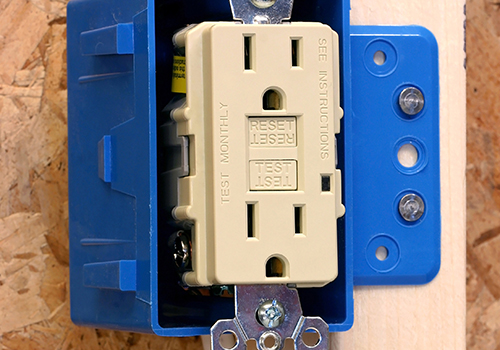 Even when you're enjoying time spent outdoors, it's nice to have a little electricity around (understatement, I know) – for lighting, music and entertainment, or gadgets and tools.
So plan carefully, and plan to be careful. Avoid using extension cords not rated for outdoor use or thick outdoor extension cords that may present a tripping hazard. Far better, ground-fault circuit interrupter (GFCI) outlets are safe for outdoor use and are easily installed by qualified electricians (like us!).
About – The Consumer Product Safety Commission (CPSC) defines a ground fault as "an unintentional electrical path between a power source and a grounded surface." In a truly worst-case scenario, this "unintentional path" could be your body. GFCI outlets interrupt or cut off the power when the current flowing from the outlet is greater than the current flowing into the outlet – which prevents electrocution.
Where – The National Electric Code requires GFCI outlets to be placed outdoors, in bathrooms, in garages, in basements, in kitchens, near wet bars and near laundry or utility sinks. Basically, they should be anywhere that outlets may come in contact with water.
How – GFCIs can be installed in circuit breakers to protect different circuits from overload or ground fault, or separate GFCI outlets may be installed. Each outlet should be tested monthly by plugging a light into it and pressing the test button. The light should turn off. Press the reset button, and the light should turn on.
Give us a call about installing GFCI outlets in your home!
We had some beautiful visitors on our property this week!
Don't live without power this storm season.  Keep the lights on with an automatic standby generator.  They're quiet, reliable, fully automatic, and powered by natural gas or propane.  Call us today at 401-397-3415 to schedule a no obligation consultation.