Archives for October 2019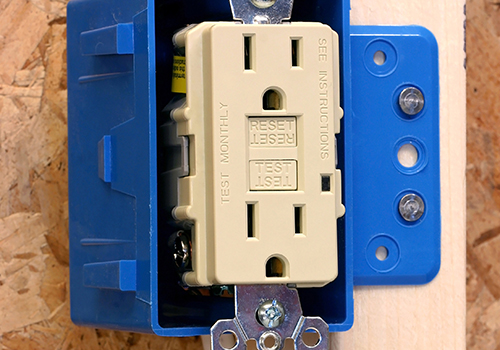 Even when you're enjoying time spent outdoors, it's nice to have a little electricity around (understatement, I know) – for lighting, music and entertainment, or gadgets and tools.
So plan carefully, and plan to be careful. Avoid using extension cords not rated for outdoor use or thick outdoor extension cords that may present a tripping hazard. Far better, ground-fault circuit interrupter (GFCI) outlets are safe for outdoor use and are easily installed by qualified electricians (like us!).
About – The Consumer Product Safety Commission (CPSC) defines a ground fault as "an unintentional electrical path between a power source and a grounded surface." In a truly worst-case scenario, this "unintentional path" could be your body. GFCI outlets interrupt or cut off the power when the current flowing from the outlet is greater than the current flowing into the outlet – which prevents electrocution.
Where – The National Electric Code requires GFCI outlets to be placed outdoors, in bathrooms, in garages, in basements, in kitchens, near wet bars and near laundry or utility sinks. Basically, they should be anywhere that outlets may come in contact with water.
How – GFCIs can be installed in circuit breakers to protect different circuits from overload or ground fault, or separate GFCI outlets may be installed. Each outlet should be tested monthly by plugging a light into it and pressing the test button. The light should turn off. Press the reset button, and the light should turn on.
Give us a call about installing GFCI outlets in your home!
We had some beautiful visitors on our property this week!
Don't live without power this storm season.  Keep the lights on with an automatic standby generator.  They're quiet, reliable, fully automatic, and powered by natural gas or propane.  Call us today at 401-397-3415 to schedule a no obligation consultation.